---








---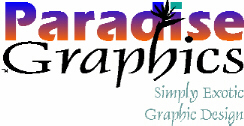 Portfolio
The above logo (and Award Winning Web page) for Paradise Graphics is an example of work designed by accredited Graphic Designer, Debra Baxter (Mixon). Following are other works by Debra arranged in categories.
Web Pages

Greg Norman Holden International

Boston Terrier Rescue

Five Elements

Advanced Internet Concepts

JB CAD Services

JB Photo Services

Print Design

Logo & Corporate Stationery Design

Colour Brochures

Logo & Corporate Stationery Design

Corporate Stationery Design

Copy Writing
All copy appearing in the Paradise Graphics Web page is written by
Debra L. Baxter, AGD

Resume
Download a copy of Debra's resume in PDF format.

Top of Page
---
© Copyright 1995-2015 Paradise Graphics

All graphics and documents contained in this portfolio are registered trademarks of or copyrighted by either Paradise Graphics or their respective owners.